Women had always been underrepresented in business world. Harmful gender bias has segregated men and women in terms of types of work and promotion prospects. Tourism sector comprises mostly female workers but sadly we still see fewer women in management and leadership roles. Yes, the percentage of women who work in the tourism industry is high but their function is dominated by unskilled, low-paid jobs. Women are still less paid than men and most of them still occupy minor positions which create a big gap in gender equality at work.
These are some statistics which show the extent of discrimination in hiring women as part of the workforce in the tourism industry:
Compared to youth, women have a lower rate of employment opportunities. About 39% of workforce in tourism are occupied by the youth, giving little space for women ;
Other countries like the Bahamas have only 40% of seats reserved for women, whereas the other 60% are given to men. This 40% of jobs are relative to hotel service sector in tourism, than outdoor jobs which pay more;
Australia has a comparatively higher number i.e., 55.8% share for women. There are higher chances of women in Australia being promoted here than any other country;
India shows a meager yet significant 38% of hiring vacancy for women. Some jobs though the same for both women and men still pay women less.
A lot of women working in family tourism businesses are unpaid.
A vast difference in pay is seen where women earn 15% less salary than men in the tourism industry.
UNWTO INITIATIVES TOWARD EMPLOYMENT OF WOMEN IN TOURISM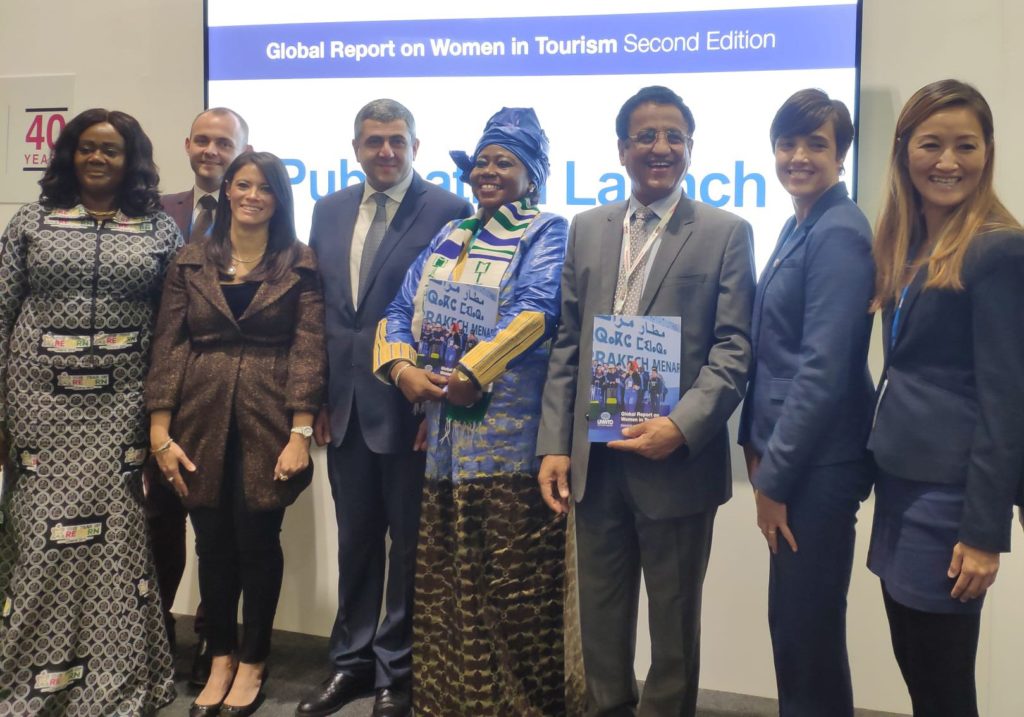 The World Tourism Organization (UNWTO) has taken every effort to advance gender equality and women's empowerment in tourism industry. The Organization has collaborated with UN Women, The German Society for International Cooperation (GIZ), World Bank Group and Amadeus, launched the second edition of the Global Report on Women in Tourism on 6 November 2019 to put some further initiatives.
UNWTO believes that the devastating effects of the COVID-19 pandemic present the tourism sector with a golden opportunity to redefine its gender balance through "Centre Stage Project for 'Women's empowerment during the COVID19 recovery". This project works towards strengthening gender equality and women empowerment in tourism governmental institutions and businesses as they recover from the pandemic.
The Centre stage project focuses on reinforcing action for women in tourism industry into eight strategic areas i) Employment; (ii) Entrepreneurship; (iii) Education and Training; (iv) Leadership; (v) Community and civil society; (vi) Financing; (vii) Policies to enable gender equality and (viii) Technology
how these are going to further tourism's empowering potential for women:
Employment
Gender-equality in tourism employment is very wide. To address this systematic inequality, measures must be taken to tackle the gender pay-gap, address unpaid work, prevent sexual harassment and challenge gender stereotypes.
Entrepreneurship
In this, women's ability to access tourism markets, to diversify tourism products and services and to formalize tourism businesses must be further enabled in order to encourage higher rates of female tourism entrepreneurship.
Education and training
Women's limited access to tourism education and training impedes the opportunities available for empowerment and should be expanded. Meanwhile gender-equality training should be made available for tourism stakeholders across the private and public sectors.
Leadership
Action must be taken to increase female representation at the highest levels of the tourism sector. High-level training on soft-skills and networking combined with facilitating women's career progression would contribute towards an improved gender balance at all levels.
Community and civil society
Introducing measures to improve women's work-life balance and supporting women's tourism networks, NGO's and tourism cooperatives would help to strengthen women's voices in community and house-hold decision making.
Financing
Adequate human and financial resources must be made available for gender-equality programmes and policies to be effective. In parallel, improving individual women's access to finance and financial inclusion is vital for enabling women's empowerment through tourism.
Policies to enable gender equality
Mainstreaming gender equality considerations across tourism policy and including tourism in gender-sensitive macroeconomic policy will increase women's empowerment in the sector.
Technology
Women's access to digital technologies, including digital tourism platforms, must be expanded and accompanied by appropriate training if women are to equally benefit from the ongoing digitalization of the tourism sector.
Tourism provides employment for women
Women have proved to be the agents for building capacities of resources in tourism sector in comparison to men.
Here how tourism helps in providing employment to women
Active participation of women in tourism market in both labor and strategic positions brings tourism in a positive light. People shower love to that industry that supports gender equality and women empowerment.
Travel & Tourism typically employs a far higher proportion of women than other sectors, so chances of women getting a job in tourism are way higher than any other industry.
Women make up over 60% of the labor force in the hotel sector.
Tourism offers a large volume of low skilled jobs and most of these opportunities are handed to women.
Tourism provides women-oriented job like Air hostess/Stewardess. This is the job that only gets offered to women.
Due to the emergence of women's empowerment and gender equality movement and also guidelines of UNWTO plans for women in tourism, more and more women are getting employed in higher positions.
Some jobs in travel industry are dominated by women such as receptionists, telephone operators, air hostesses, travel assistants, and public relations personnel. Travel HRs prefer women for these positions.
Women professionals are occupying decision making positions, and successfully launching and running their own travel companies.