WELLNESS TOURISM IN INDIA
Wellness tourism is very niche kind of tourism. Though, travelling for whatever reason encompasses relaxing of mind in some way, Wellness Tourism solely focuses on rejuvenating, relaxing and revitalising your mind, body and soul. Some might confuse it with Medical tourism but it is just a part of Wellness tourism industry. Wellness travellers pursue diverse services that includes physical fitness and sports; beauty treatments; healthy diet and weight management; relaxation and stress relief; spiritual tourism, including meditation and yoga, whether classical or as exercise; and health-related education etc so it's not limited to getting yourself medically treated abroad.
Why India?
India is a centre of Ayurveda, Yoga, Sidha, Naturopathy, etc. together to with the spiritual philosophy. This makes India a dream destination for wellness travelers. India is also internationally famous for Yoga, homeopathy, and Tibetan medicine, thus positioning it as the 1st choice for wellness tourism.
Must visit destinations to experience wellness tourism in India
RISHIKESH
What's more peaceful and tranquil than a place that resides in the foothill of The Himalayas? Though Rishikesh is already well-known among Indians, it has been popularized in west by the legendary band "The Beatles" when they came and visited Chaurasi Kutia ashram for meditation. Now the site is famously known as the Beatles ashram. Rishikesh is known as the world capital of Yoga, this is because it is considered to be the birthplace of this widely popular practice that's said to benefit both mind and body.
TOP WELLNESS DESTINATION IN RISHIKESH
Ananda in the Himalayas
It's the top rated spa resort for wellness in Narendranagar, Rishikesh. Ananda in the Himalayas offers wide range of treatments like Yoga, Ayurveda and Vedanta combined with international wellness experiences. The award-winning spa provides breathtaking view of Sal forests and Ganga river and exhilarating visuals of Himalayan mountains from the top. This luxury resort specializes in more than 80 varieties of spa therapies which are the mixture of traditional Ayurveda with modern spa. Price Starting at INR 23,438 per night:
Aloha on the Ganges
Located on the banks of Ganges, Aloha on the Ganges resort provides you everything that you need for a rejuvenating retreat for both body and spirit. This luxury wellness hotel offers every wellness facility there is; Spa, Massage, Steam room, hiking, swimming pool indoors and outdoors and a yoga room. This resort offers great spa treatments, meditation and Yoga sessions, and signature Ayurvedic rituals. Price: Starting at INR 7,558 per night
Bengaluru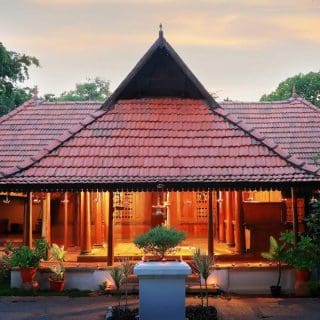 Famous for being India's IT center, this Karnataka city is riding on the wellness tourism as well, showing a 25 per cent annual increase in the niche industry. Bengaluru's established tourism infrastructure, with its capacity to support world-class wellness services and quality of medical services, offers the best platform for this type of tourism.
TOP WELLNESS DESTINATION IN BENGALURU
SHREYAS YOGA RETREAT RESORT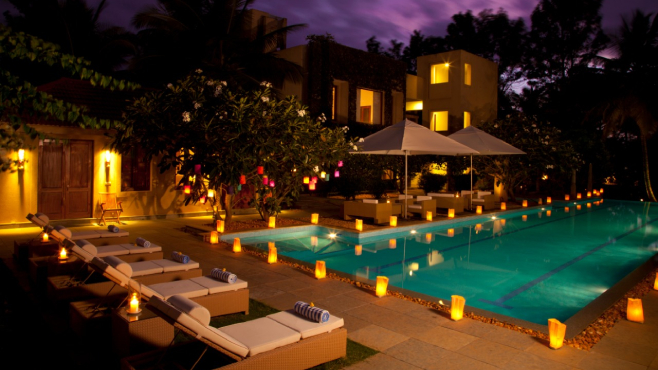 Most acclaimed Yoga resort in the city, this is an ideal place for wellness travelers that travelled here for Yoga as their main healing activity. This resort provides various unique yoga positions and customized treatment packages that helps to relax and rejuvenates their visitors. It also specializes in spa therapies, Ayurveda therapies, naturopathy, rejuvenating massages, and beauty treatments. Apart from the wellness facilities, this place is known for its special ambience too. Open-air amphitheater, library, pool and Jacuzzi, home theater, nature farming, and even cricket nets for cricket aficionados adds healing atmosphere for all the visitors.
KERALA
Kerala is the forerunner for Ayurveda tourism and as one of the popular wellness tourism destinations, it persists in the top list for wellness journeys. Wellness centers in Kerala focus on the idea of travelling for activities that intend to promote health and well-being that makes it a preferred destination among majority of tourists.
TOP WELLNESS DESTINATION IN KERALA
The Leela Kovalam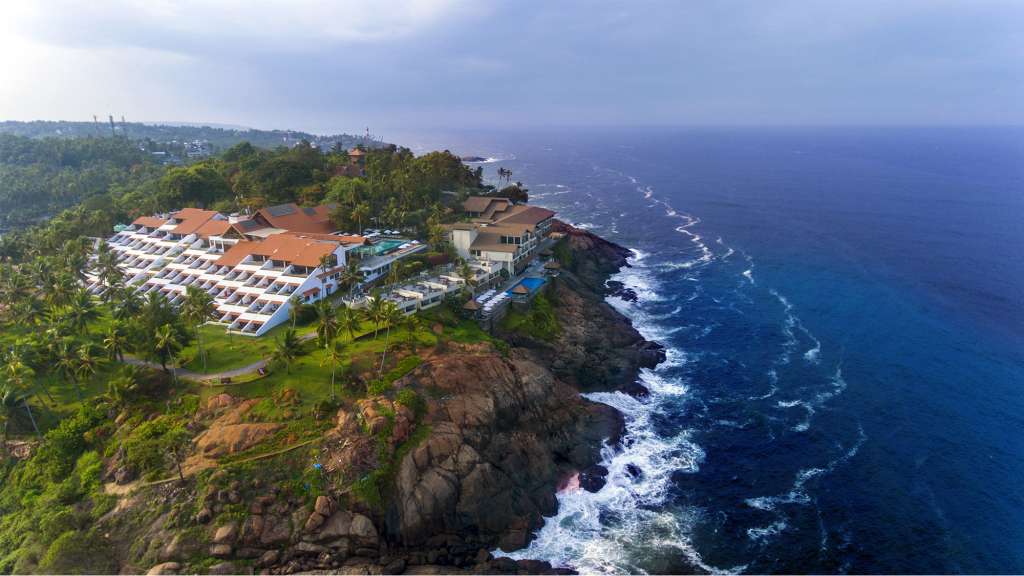 Not only it's a luxurious hotel, it's also a top rated wellness center. The Leela offers an authentic Auryeda Wellness Spa and therapies that combine detoxification, rejuvenation, de-stress and wellness. Along with all this, it specializes in Ayurvedic spa treatment and Yoga treatments for wellness visitors.
Kairali Ayurvedic Healing Village
As the name implies, it's a village dedicated for people's wellness through aryuvedic treatment. This village completely condones the urban lifestyle instead opt for a natural, rural atmosphere because it's their belief that urban lifestyle is actually harmful for our body and mind.
Do's and don'ts while planning wellness
Wellness is extremely important for one's well-being. While not travelling for wellness, one should take some time planning it. Good health doesn't only means physical but mental health too. Well- planned wellness can leads to purposeful and enjoyable lifestyle and optimal enhancement of physical, mental and spiritual health.
Here are some do's and don'ts while planning wellness
DO'S
Do Eat nourishing food and follow a healthy diet.
Do Keep your sleep cycle regular. Sleep is the best healer of both mind and body.
Reading books, watching movies or any other hobby that gives you comfort.
Do Take a walk in the part or just spending time with nature.
Do Use proper sitting postures while working on a computer.
Do Warm up or stretch before exercising or other physical activities, such as gardening.
Do Limit the use of Social media.
Practice mindfulness – Focus on today and the present instead of the future.
Do some sort of exercise every day.
Do meditation and yoga exercises.
Do practice gratitude.
Don't have excess alcohol.
Don't be hard on yourself when you make a mistake.
Don't use repetitive rotation activities. Unloading the dishwasher, car, and washing machine must be done with moving the feet to turn the body and a tight core.
Don't eat frozen or stale food.
Don't remain idle.
Don't fish for praise or compliments all the time.
Don't compare yourself with others.
Don't blame yourself for the things you don't have any control over.