Travelling on a Cruise Ship is "once in a lifetime experience" in India. Cruise tourism has gained significant attention in India since the release of the movie "Titanic" which featured a larger than life lifestyle in a lavish cruise ship. However, Cruise travelling is still the least popular choice among the Indian people, who prefer to travel by air and road transport. There are many reasons for it; expensive, seasickness or fear of sinking / drowning. Because of this, Cruise tourism has turned into a niche and luxurious travel industry.
Despite this, people love travelling over the sea and find it more exciting than the other two means of transport. There are so many circuits/ destinations for cruise vacations in India. Here are some of the famous ones;
Famous Cruise destinations in India.
The Golden Triangle Cruise: Delhi, Agra and Jaipur
Also known as "The luxurious triangle cruise", this cruise trip will take you to explore India's Golden Triangle and the Highlights of North East India. It's a 13 night long trip where 7 nights are on-board and 6 nights on land accommodation provided by Oberoi Hotels at New Delhi, Agra & Jaipur.
Chilika Lake Cruise
If you're not into cruising the waves of a sea and rather want to embrace the beautiful proximity of a lake, this cruise trip is a perfect trip for you. A 3 hour long boat cruise in the lap of nature is worth your time and money and you'll be earning an unforgettable experience. It's also a popular spot among bird watchers.
Kochi Cruise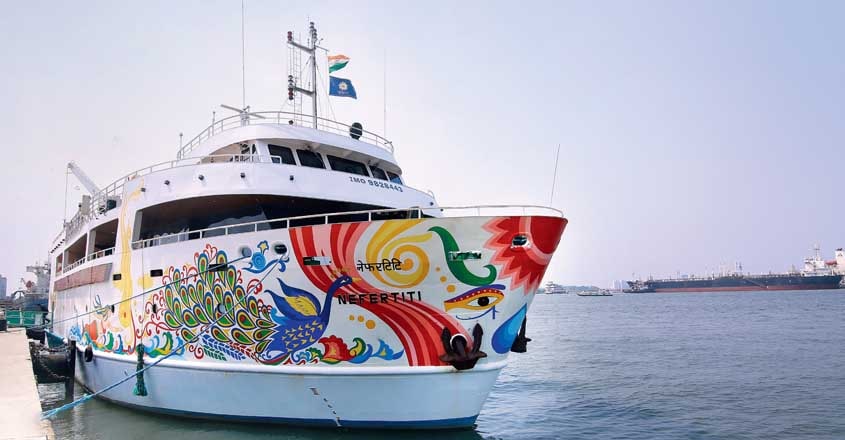 Kochi is hailed as the most popular cruise destination in India and rightfully so cause Kochi has a perfect weather all year round. Sailing over the waves with cool breezy air is a rejuvenating experience for anyone. You can choose from many cruises in Kochi according to your budget and time. Since it is located along southern coast of India, one can joy the picturesque backdrops of Kerala and its memorable sunset.
Goa Cruise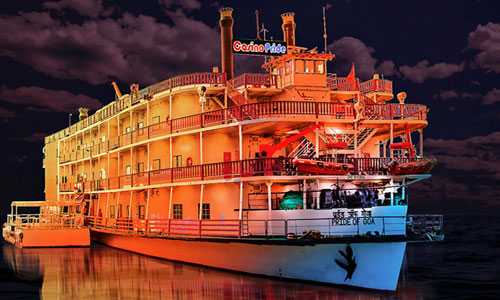 Though Goa is more famous for its beaches, it is also becoming a river and sea cruising destination. Like Kochi, you have so many options available for a variety of cruises. The cruise starts from the Mandovi River before taking you into the Zuari bay and into the sea. The Goa cruise offers plenty of cuisines, local entertainment, buffet and view of bright blue skies.This cruise will take you to the tour of the goan villages, with mangroves on both sides. It's not only unforgettable but a life-altering trip, one must have if they are an avid traveler.
Why go on a Cruise Travel?
Unpack only once!
Whether it's a road trip or travelling by air, you have to pack and unpack multiple times while visiting multiple destinations. Cruise travel saves you from this as it takes you through multiple destinations on your itineraries without having to take your luggage with you. It'll be staying in your floating hotel room !
All – in – one
Restaurant, Hotel Rooms, Buffet, Evening and night entertainment
Spa and Salon services
Gambling (Including Bingo)
Art Auction
Any purchases made in the gift shops onboard
Shore excursions
Photographs
Video Arcade
Medical Services
Internet Access
Laundry and Dry Cleaning Services
Ship to Shore Telephone calls
Gratuities
Almost everything and every service are available on the cruise, making travel stress-free and refreshing.
Health Benefits
Travelling on cruise means experiencing sunshine, fresh ocean air and the benefits of salt water which rejuvenates your mind, body and spirit. According to CLIA Clinical Laboratory Improvement Amendments, taking a cruise is beneficial for your health! Cruise provides variety of on-board activities for your physical and mental health; You can go to an educational lecture, a wine tasting, a computer class or a dance workshop; paint pottery, play bridge, learn a language or do yoga; dine at a casual buffet, a fancy sit-down restaurant, a sushi bar, a diner or a steakhouse; and watch a movie, a comedy routine, a song-and-dance show or live music performance. All this in one ship!
Cruise is for everyone!
People from every age range can enjoy their vacations on cruise. Children have play-areas, Teenagers have cool hangout places and Adults can enjoy scenic views, late night diners and water sports activities plus much more. So many cool activities at one place provide great value for your budget too.
Do's and Don'ts while travelling on a Cruise.
If it's your first time on a cruise it's better to know some dos and don'ts beforehand for a better travel experience.
Do's
Do join the dance classes.
Do take your sunglasses, sunscreen, scarves, and hats along with you.
Do pack light, summer dresses to enjoy the sun.
Do pack some evening gowns for special events.
Do attend the live music and concerts organized by the cruise
Do take advantage of the multiple cuisines
Do carry your first aid kit to keep yourself safe from unforeseen circumstances.
Do carry your water-resistant flip-flops.
Do carry a small pouch bag that can be used for multiple purposes.
Do carry a portable charger and your cameras.
Do visit the shore excursions and stop-overs organized by the cruise line.
Do make new friends.
Don'ts
Do not smoke while on board.
Do not bring beer or liquor on the cruise.
Do not skip the safety drills.
Don't drink too much.
Do not play loud music.
Don't book the wrong cruise line.
Don't travel with the wrong travel companion.
Don't arrive late on the day of boarding.
Don't keep your rooms open.
Don't keep your clothes hanging on the balconies.
Don't forget to make advance reservations if you wish to attend special events or special dine outs.
CRUISE TRAVEL is one revitalising trip to have in your memories and one shouldn't shy away from experiencing it.